For the first time, you can finally get all three Great De-evolution novels in one volume.
The Great De-evolution: The Complete Collection presents all three apocalyptic stories. Be warned, these are not stories for people who need action sequences or pretty endings. But if you love introspective, reflective stories or want a different take on the end of mankind, these stories are for you.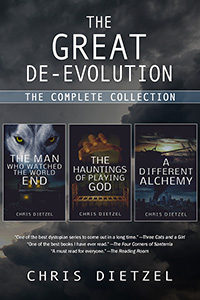 In 2013, the first of three novels was released that depicted a quiet and bleak ending of mankind. 'The Man Who Watched The World End' provided a gradual and inevitable extinction without fighting or action, only people growing old and witnessing each aspect of society slowly fading away around them. Readers loved the unique take on the end of the world and two more novels set in the same reality were subsequently published.
The Complete Collection contains:
The Man Who Watched The World End – An old man, the final resident in the neighborhood of Camelot, recounts all the ways society changed as the human population continued to shrink.
A Different Alchemy – Following a senseless act of violence, one man travels north, toward forgotten lands, passing reminders of mankind's impending extinction.
The Hauntings of Playing God – Alone and overwhelmed, will the final member of the human race be thought of as a caretaker or as a monster?
Critical acclaim for the Great De-evolution books:
"One of the best dystopian series to come out in a long time." – Three Cats and a Girl
"[Dietzel] has accomplished something remarkable: he really has written a book that is one of a kind." — Nancy Roberts
"All I can say is trust me and give this book a read." — The Lazy Book Reviewer
"A true wakeup call to everyone… One powerful novel." — Fran Lewis – Just Reviews
"Dystopian in focus yet incredibly human in its exploration and atmosphere… This is a book, a work, worthy of each and every one of those 5 star reviews." — Mack Meijers – Authors on the Air
"One of the best books I have ever read… Plays on one of our deepest fears, something we all know will happen one day." — Terry Reid – The Four Corners of Santerria
"A highly addictive book… A must read for everyone." – The Reading Room
"Highest possible rating." — OnlineBookClub.org