As I get closer to wrapping up the Space Lore series, another milestone has been reached. The cover for the sixth and final book in the series, Avalon, is now complete. And like the others, it is pretty dazzling.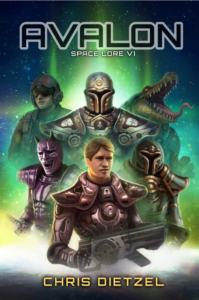 Avalon will be released on November 27th but can be pre-ordered today.  If you love Arthurian legend, epic space fantasy, or science fiction, you should definitely check it out.
And now that all six covers are done, they look amazing when lined up next to each other.
If you haven't read the Space Lore series, you are missing out on a unique blend of Arthurian legend infused into a universe that is similar to Star Wars. If you have read the first five books, don't miss Avalon, the exciting finale and the book that answers every question from the other books.